Julie Furneval - Traffic & TRO Technician
-
How long have you worked here?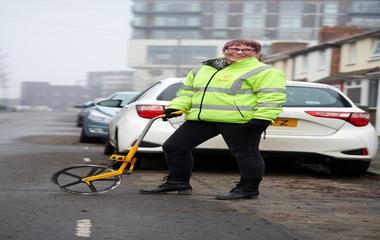 I have worked for the authority for 14 years
What attracted you to work here & what do you enjoy about your role?
Before joining SBC I worked previously within Street Works and Road Safety for another Council and found it very interesting. When this role was advertised I thought that it would assist me progressing further within my chosen career path. I liked the idea of being able to work closely with stakeholders and the local community as a member of the Traffic & Road Safety Team, identifying and implementing traffic and road safety measures across the Borough.
SBC have given me opportunities to grow within my role over the years. What I like about my role is we have the opportunity to make a difference whether it be small or big and that is what motivates me, I enjoy my job it can been rewarding and at times and very challenging and no day is the same.
Your ambitions for the future?
My long term goal is to progress and develop my role further within the Traffic & Road Safety team and obtain my qualifications in Road Safety Auditing and to potentially become an Senior Traffic Engineer or a Road Safety Auditor within a local authority,
A bit about you personally- any hobbies, favourite travel destinations etc
I am a full time single mum outside of work. I have 5 children in total, 2 of which have flown the nest. The 3 left at home are 12 years and twins of 9 years, they keep me very busy with their love of football, so I spend a lot of my time ferrying them to and from football matches and training sessions, being that embarrassing mum on the side lines. This leaves very little time for my me to have personal hobbies but I do enjoy visiting places, walking , riding my bike. I would love to learn to dance but until my beautiful children can fend for themselves this is on the bench. To compensate on the lack of personal hobbies I enjoy sharing good food and holding Gin tasting sessions with my close friends.
Travelling is also one of my passions and before the twins came along I used to enjoy traveling to places such as Greece, Turkey , Spain. The furthest and most interesting place I have been was Western Australia and would love to venture to either one of these places again but for now the children and I enjoy camping on the Cornish and Devon coast line.